Asynchronous Records is the label under which Phillip Johnston releases his own work. These CDs are distributed by Wayside Music and available through Bandcamp and/or CD Baby. At this moment there are five releases, including his two most recent recordings.
The Adventure of Prince Achmed – Phillip Johnston (Asynchronous 04)
Buy Prince Achmed on Bandcamp
This CD contains music that was composed as a soundtrack which is performed live with the The Adventures of Prince Achmed (1926) by Lotte Reiniger, a silent silhouette animation, considered by many to be the first feature length animated film, and based upon One Thousand and One Nights, a collection of Middle Eastern folk tales often known in English as The Arabian Nights. The music, which when performed with the film comprises a continuous score of 65 minutes, is here broken into individual tracks. It is performed live by a quartet of soprano sax, trombone, and two keyboards, against a pre-recorded track of samples, loops and live drums.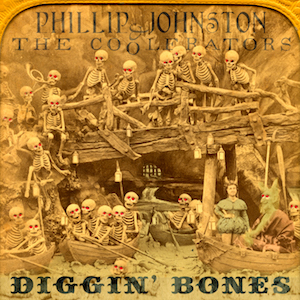 Diggin' Bones – Phillip Johnston & the Coolerators (Asynchronous 03)*
Buy Diggin' Bones on Bandcamp
Diggin' Bones, the first CD by Phillip Johnston & the Coolerators features a unique sound which combines funky organ combo jazz with modernist jazz composition. Produced by The Necks' Lloyd Swanton and featuring some of Australia finest jazz/multi-genre improvisers, this recording shows a new side of Johnston's music, and recording history which began in 1983 with Take The Z Train by The Microscopic Septet.
The Merry Frolics of Satan – Phillip Johnston's Transparent Quartet (Asynchronous 03)
Buy Live at the Hillside Club on CD Baby
This is a studio recording of Johnston's scores for eight films by the French master of the fantastic Georges Méliès. It was originally released by Koch Jazz in 1999. It was later released on Asynchronous in 2014 after it had been out of print for a decade. It was performed by the Transparent Quartet.
Live at the Hillside Club – Joel Forrester & Phillip Johnston (Asynchronous 02)
Buy Live at the Hillside Club on CD Baby
"There is a certain sparkling, effervescent quality to this music, an elegance rich and satisfying like a great scene from a Woody Allen movie when they were still worth seeing. Mr. Johnston is a fine soloist who brings poignancy and poise to these songs. Mr. Forrester's playing is refined yet economical, sounding as if he is drawing from a wealth of styles and traditions. Even the four Monk covers are done with both craft and reverence and filled with little surprising twists. . .This disc is one of the most laid back and enchanting offerings we've listed in recent memory."– Bruce Lee Gallanter, Downtown Music Gallery
Page of Madness – Phillip Johnston's Transparent Quartet (Asynchronous 01)
Buy Page of Madness on CD Baby
Page of Madness is a live recording of Johnston's score for Teinosuke Kinugasa's 1926 silent Japanese masterpiece. This recording was done  at Lincoln Center's Walter Reade Theater by Jon Rosenberg. It was performed by The Transparent Quartet.
[*NB: You may note that there are two Asynchronous 03s. This is not an error on the web page. This is because I am a very poor administrator and forgot how many CDs I had done when I did the production of Diggin' Bones. and used the same number twice. I don't see this as a major problem given the low res nature of Asynchronous Records. It's asynchronous!]