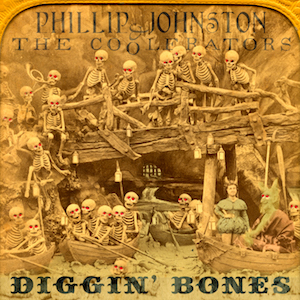 Diggin' Bones, the first CD by Phillip Johnston & the Coolerators features a unique sound which combines funky organ combo jazz with modernist jazz composition. Produced by The Necks' Lloyd Swanton and featuring some of Australia finest jazz/multi-genre improvisers, this recording shows a new side of Johnston's music, and recording history which began in 1983 with Take The Z Train by The Microscopic Septet.
Buy Diggin' Bones on Bandcamp.
Download full Press Release.
The band brings together two of Australia's most internationally acclaimed touring musicians, Alister Spence (Alister Spence Trio, Clarion Fracture Zone, AAO) and Lloyd Swanton (The Necks, the catholics) with one of Sydney's most in-demand rhythm section players, Nic Cecire. The music covers a range of styles but avant organ jazz is at the centre of it.
Phillip Johnston: soprano/alto saxophone
Alister Spence: organ
Lloyd Swanton: bass
Nick Cecire: drums
Listen to 'What Is Real' from Diggin'Bones:
Link to Notes for Diggin' Bones.